Workflow Tools, 30th November 2010, Bath
Three years ago, a group of developers and project managers from Higher Education came together to examine workflow tools and notation. At that time the participants were not impressed with the tools available. However, since then the tools have been maturing rapidly, so DevCSI provided an opportunity to revisit the tools and investigate their potential applications for an educational context.
Despite adverse weather conditions, a mixture of over twenty developers and project managers from Higher Education, Further Education and the private sector gathered at Bath Rugby club to hear presentations about the major commercial and open source tools available, to watch practical demonstrations and to discuss issues specific to them in a series of lightening talks.
Motivating BPEL, addressing BPMN vs. BPEL and BPMN-to-BPEL transformation and execution in ODE
Tammo van Lessen (Researcher, Open Source Developer, SOA & BPM Expert)
Despite being snowed in at Frankfurt airport, van Lessen delivered his presentation via Skype and the traditional telephone due to network difficulties.
Van Lessen began by discussing the history of workflow languages and standards, outlining the original two competing perspectives of Microsoft's calculus-based approach and IBM's graph-based approach. He also described emergence of the BPMN 1.x standard, which defines the processes but not the semantics and allow business experts to analyse and discuss business processes. This is composed of activities, gateways and data objects, joined by sequence flow. However, with no defined execution semantics, there was need for a technical language. This led van Lessen to discuss BPEL – a hybrid language which is block structured and graph-based, like BPMN, but is tied to the concepts of SOA and Web Services.
He noted that the established approach for modelling is for business experts to create BPMN models, which are then translated by IT experts into BPEL in order to make them executable. However, BPMN-to-BPEL mapping is not straightforward, which means you need to re-think your problems when translating.
The new model, BPMN 2.0, is a combination of the best of both of these standards. It is a notation subset of BPEL, and a meta model and execution semantics for BPMN . This makes it is possible to interchange diagrams between tools and interchange data models between tools. However, van Lessen observed that there is still a business/IT gap, so the models need to be re-thought between the business view and the technical view.
He went on to discuss the background of BPEL in more detail, including its origins in 2002 and its establishment as an OASIS standard in 2007. It is a high-level programming language, which has native support for a number of quality of service parameters. As a standard, it is supported by the most important vendors, which makes it possible to interchange models.
Van Lessen continued on to discuss the technical aspects of BPEL, including partner links, fault handling, data manipulation and dead path elimination. He also discussed the basic activities involved in BPMN 2.0, including receive, reply and invoke – explaining how each are used in practice.
In conclusion, van Lessen summarised the basic concepts behind BPEL and the Apache ODE open source project, which is used in many commercial projects including some of those reviewed later in the day.
Introducing Intalio
Sulieman Shehu (Azinta Systems) and Ihab Alami (Intalio)
Shehu provided us with some background to Intalio by describing their two main products: Intalio Works, which is the old BPM suite of products, and Intalio Cloud, which provides a cloud platform and CRM. Intalio Works has over 100,000 active deployments and nearly 700 paying customers, who are mainly service providers. Shehu also outlined Intalio's open source approach, which involves two editions of their product: a community edition which is free and an enterprise edition which has additional features on a subscription basis.
Ihab Alami from Intalio then joined us from Paris using GoToMeeting to provide a brief live demonstration.
Alami provided an overview of the two main components of Intalio: designer and server. This structure allows you to create model diagrams, implement them and deploy them without writing any code using the designer component, whilst the server component delivers various features, including a Portal and CMS integration. The Intalio Server has a BPEL engine based on Apache ODE, which was an Intalio product donated to the open source community.
For his demonstration, Alami used a simple company purchase process to illustrate the main functional capabilities of the software. He emphasised that the tool is designed to be used both by business analysists and by developers, and so provides different views and toolbars to suit the needs of these two groups. The business analayst creates a process model using a drag-and-drop interface and BPMN standard functions, then provides the model to the developer who uses the developer tools to convert the process into a series of tasks and defined users with the authorisation to carry out those tasks. The developer can also create a forms for users to interact with the process and apply these directly to the model.
Once this is deployed, the software will generate the BPEL code, package it and deploy it on the server selected. The user will then be able to select the process and complete the specified forms within that process, and pass the task to other users to progress the process.
Alami also demonstrated how to integrate with a third-party system and explained how communication works between different systems. He provided a practical application of this using a purchase process which involved contacting Amazon.com automatically to get a quote.
Finally, Alami demonstrated a dashboard model and mechanisms for monitoring the distribution of tasks so you can review progress. This allows you to see where time is lost and enables you to adjust your processes to improve efficiency.
WSO2 Business Process Server
Paul Fremantle (Chief Technical Officer of WSO2)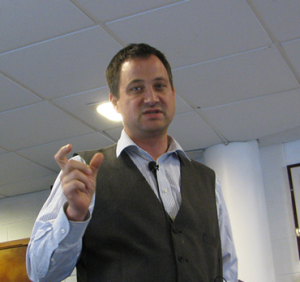 Freemantle introduced WSO2, an open source project which consists of a complete platform for SOA functions, including connecting to back end data services and integration with various libraries of languages. There is no community vs enterprise edition.
Fremantle used the analogy of a pizza base with optional toppings to describe their main product, WSO2 Carbon. He observed that application development is moving from monolithic applications to composite applications, so WSO2 Carbon provides a base for BPM plugins to provide flexible functionality.
After providing an overview of their Business Process Server, built on Apache ODE, Freemantle gave a demonstration of the WSO2 Carbon dashboard. This enables you to manage user roles (by connecting with various other databases, if necessary), manage key stores and data sources. The dashboard also provides a summary of the business processes and their current states so you can get an overview. He demonstrated how to examine your process in terms of the code or in a simple graphical view and how to instantly try any process you design before implementing.
The interface is currently integrated into Google Gadgets. Freemantle conceeded that the interface is not beautiful for a user. However, this can be replaced with nicer UIs and this is currently an area of development for them. They are using Google Gadgets-based dashboards, which is a powerful way of building a UI to appear in different portals – much like iGoogle, where plugins are not necessarily hosted all on the same server. All of the high level BPS configurations are available through a management console, including security models. Tooling is based on Eclipse, with a series of WSO2 Carbon plugins which can be requested within an existing Eclipse workspace.
WSO2 Carbon is their main product, available as a single .zip file download with multiple plugins and designed to be run locally with local customisation. Freemantle also briefly described their alternative product: WSO2 Stratos, which is an "as service" product running in the cloud. He observed that many large organisations don't want to put their business processes in the cloud, but WSO2 are using this cloud service more for demonstration purposes. However, he noted that this system could be deployed by an organisation like JISC and then be used across different institutions, which would be simpler than each university implementing their own system locally. WSO2 Stratos is still in beta, whilst Carbon is a gold release.
He concluded by explaining the business model and the types of service that they offer as a company.
Taverna
Stian Soiland-Reyes (Technical Lead for Taverna)
In this video interview, Soiland-Reyes discusses Taverna, its uses and the barriers towards using tools of this nature within Higher Education.
Intalio BPMS and APADO Business Agility Platform
Suleiman Shehu (CEO of Azinta Systems and Chief Architect of the APADO Platform)
Shehu describes the thinking behind the APADO platform and how this approach could be valuable to universities in this video interview:
Lightening Talks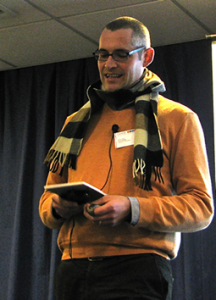 Amyas Phillips
Project Manager, University of Cambridge
Phillips discussed the application of business process modelling in curriculum design within the context of Cambridge University, where the system for course creation is very flexible, but in need of a slightly more formal scaffolding to make it easier for staff to collaborate to create good course curriculums and therefore innovate more easily.
He observed that business process modelling does not necessarily handle unpredictability well, which led them to investigate the concept of a bearly repeatable business process vs easily repeatable business processes, which he recommended to the group.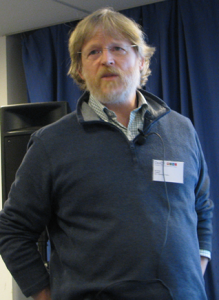 Bill Olivier
Professor, IEC, University of Bolton
Olivier introduced us to a JISC-funded enterprise architecture pilot programme which is developing an open source tool to help model at the enterprise level. This is funded under the Flexible Service Delivery Programme and is using an open source enterprise architecture modelling language called Archiemate.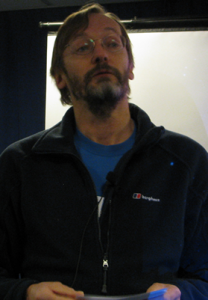 Graham Klyne
Developer, Oxford University
Klyne discussed how workflow tools could play a role in encouraging researchers to submit their data to repositories by contributing to a project which aims to engage with the researchers at the point at which they collect and analyse their data. His project's philosophy is that if the data is not going to come to the tools, the tools need to come to the data.
Klyne outlined the Admiral technical approach, which allows researchers to upload their data into a cloud based system and then use tools there to analayse it and improve it, whilst also backing it up in the institutional repository at the same time. An understanding of workflow modelling will be important in driving this type of system forward and supporting researchers so more data is curated and made usefully available for further work.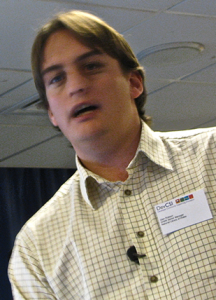 Glen Robson
DAMS Senior Manager, National Library of Wales
Robson shared his experience of using Apache Camel to handle the different workflows required by the wide variety of data types used within his project. Whilst this is simpler than BPM, Robson acknowledged that their investigation with Camel has led them to the conclusion that BPM will probably be their route in the future. He provided a comparison between the two tools, in particular demonstrating how Camel uses individual routes to build up a work flow, but without some of the advantages of BPM.
Conclusions
The event concluded with a lively discussion about the barriers and issues involved in implementing some of the tools within an educational context. These included: complexity, maintenance of the servers, the absence of relevant case studies, the scale of the task of formalising all processes and convincing managers of the value of such an investment of time and resources. The group felt that the latter could be solved by starting with the problem area at a high level, rather than talking about the tools. Delegates also highlighted the need to choose demonstration tools which non-techical people can explore independently to understand the benefits, rather than tools like Eclipse, which has too many nuts and bolts.
There were also questions remaining about the level of technical knowledge needed to maintain such systems, particularly in the longer term when having a specialist developer might not be the most sustainable option. The closing suggestion speculated that if the operational costs were centralised through JISC in the cloud, implementing workflow tools might be more attractive for the university sector.
Delegate Responses
We interviewed a mixture of delegates, speakers and organisers to get their reactions to the day and hear how the issues discussed related to their work. Select a link to hear these different perspectives:
Paul Freemantle, CTO, WSO2
Amyas Phillips, Project Manager, University of Cambridge
David Stanley, Analyst Consultant, Goss Interactive Ltd
Dave Thompson, Digital Curator, Wellcome Library
Bill Olivier, Professor, IEC, University of Bolton