Guest Post: BCSWomen Lovelace Colloquium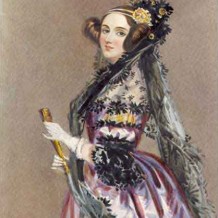 In this special guest post, Amy Guy previews the BCSWomen Lovelace Colloquium and describes the role the event has played in her own academic career in computer science.
The BCSWomen Lovelace Colloquium is a national one-day conference for women undergraduates in computing and related subjects. This year it will be held at the University of Bath on 12th April.
________________
The BCSWomen Lovelace Colloquium has been running annually since 2008, and I have attended since the first year of my undergraduate degree in 2009. In 2010 and 2011 I was an entrant to the academic poster competition, and this year I shall be there as a competition judge.
An overall aim of the event is to help female students in computing related disciplines to forge a path for themselves, and a number of approaches are taken to achieve this. The format of the event is relaxed but structured. Formal talks throughout the day provide a chance for attendees to to listen to and learn from inspiring women from academia or industry; poster presentations allow the students to bring the focus onto their own projects – both to show off, and to receive invaluable feedback from their peers. And there is plenty of free and scheduled time for that all-important networking.
Cash prizes provided by high profile industry sponsors (this year's are Google, ThoughtWorks and Bloomerg) provide further incentive for students to share their work, in case the opportunity for advice from the wealth of academic and industrial experience present isn't enough. Representatives from the sponsors come along too of course, offering students a great chance to enquire about potential employment opportunities, and the industry in general.
Consistently, I have left with new contacts, new ideas and new motivation for work and study. This is where I learnt the value of networking, as well as how to do it, and the opportunities that can arise simply through starting a quick conversation.
I am delighted to have been invited back to this year's event, which takes place on the University of Bath campus tomorrow. I am looking forward to the opportunity to talk to keen undergraduate students now that I have completed what many of them will have just started, and to continue the tradition of advising and inspiring that the Colloquium so confidently established.
________________
DevCSI will be offering five travel bursaries for students at the BCSWomen Lovelace Colloquium to attend DevXS later this year. More information will be available at the event.