RaaS: Repository as as Service wins OR11 challenge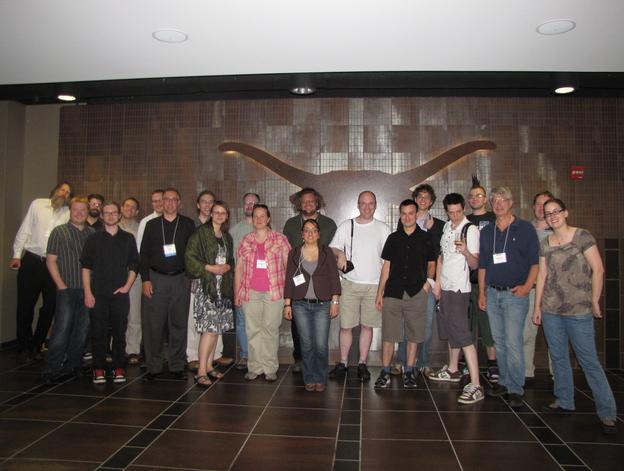 Illustration 1: Participants and judges gather under the Texas U Longhorns' longhorns.
On Thursday Evening At Open Repositories entrants in the Repository Challenge presented their vision and proceeded to show us "TheFuture of Repositories" in a series of five minute presentations that managed to overcome the best efforts of projectors and video cards to thwart them. The challenge session was a hit with conference attendees, and not just because it preceded by free drinks courtesty of Microsoft Research. There was real excitement in the venue, here are some comments we received from the feedback forms:
Brilliant the best yet!!!!!!!!!!!!!!!!!!!!
I found it incredibly valuable. It enabled me to make interesting and valuable technical contacts that I wouldn't have made otherwise, both directly (in the developer suite) and indirectly (as a result of my and others' challenge presentations). I'm very much looking forward to next year's.
There was some interesting work done, the dev lounge was a great idea, the turnout was excellent.
Lots of fun and nice to see so many people there to see the challenges (as well as so many developers submitting challenges!)
I thought this was one of the best portions of the conference. The creations stemming from it are innovative and inspiring.
Very good! Would like to see more time added. Easily the most innovative section of the conference.
It was excellent. Lots of energy, lots of creative ideas, and added a lot to the conference overall.
Best ever at an Open Repositories. Fantastic!
From an outsiders point of view and only attending the preview, it was fantastic. I gained an appreciation of the dedication, enthusiasm, and expertise of the developer community at this conference.
The videos can be found here
The judges had a really hard job: sifting through 12 entries to come up with a result to a very tight timetable. The real winner on the night was the Open Repository movement. Really, the spirit of collaboration and innovation shown by the entrants was inspiring to all of us who were involved.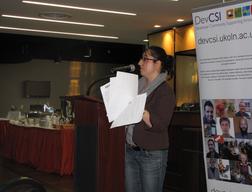 Illustration2: Balvair Notay, from JISC announces the major prize.
| | |
| --- | --- |
| Overall winner | RaaS: (Repositories as a service).By Stuart Lewis, Kim Shepherd, Adam Field, Andrea Schweer, andYin Yin LattThis entry showed a variety of small improvements to repository services, any of which could have been a competition entry, but together showed the future of repositories as a collaborative space, a world of rapid development where DSpace and EPrints swap features and repositories can be created almost like opening a Word document, to capture an event. As a result of this work DSpace got PDF cover sheets from EPrints, EPrints got a Solr search index and the team showed how distributed data collection would work with SWORD deposit of pictures from a mobile phone into a repository. This team formed in the developer lounge and epitomised the kind of collaborative development and network-generation that DevCSI was established to promote. |
| Runner up | Distributed Research Object Creator by PatrickMcSweeney & MattTaylorPatrick and Matt showed a prototype interface for selecting research materials of various kinds and aggregating them into a Research Object that can be automatically turned into a website. |
| Microsoft Prize | Dynamic Deep Zoom imagesandcollectionswithDjatoka by Rebecca Sutton Koeser.Rebecca's entry showed mostly-working tools for viewing high resolution images using standards-compliant web techniques, and pointed the way to how Microsoft Pivot might be used to explore them in a highly interactive way. |
| SWORD Prize | Raas took this one out, in addition to the main prize |
| Special mentions | The judges (and audience) liked Dave Tarrant's entry: "The future of repositories",particularly the much-requested SWORD deposit via a watched folder feature. Dave showed not just the future of repositories, but potentially gave us a glimpse of the future of computing with his demonstration of full-body controlled repository deposit using a Microsoft Kinect controller, and a preview of Windows 8.TheDevCSI team, Mahendra and Peter would like to make special mentions of The Ruby implementation of curation microservices. by Chris Bee, Michael Klein, Jessie Keck and Bess Sadler. This entry was amongst the least flashy, but it did something that's really important for the repository community and established a complete open source project from existing fragmented work, complete with |
Comments from the Judges
We asked Richard Jones who presented the SWORD prize of $500 about why the judges chose it:
"We chose the Android -> Repository with SWORD entry because it was both an ovel client implementation and also spoke to a clearly articulated use case regarding field researchers. The potential for the implementation as a mobile deposit device is fairly extensive, potentially allowing for geolocation, orientation, audio, video, stills to all be recorded to an archival location in near real time.

How does that sound?

Or you could just say we thought it was cool.

With regard to the other entries, an honourable mention for Dave Tarrant, as although it wasn't the focus of his talk, the drag and drop sword deposit is a much clamoured for usecase."
And Alex Wade, of Microsoft, who was responsible for handing Rebecca her XBbox said:
Rebecca's entry (like Sam Adams') addressed the creation of dynamic Deep Zoom images and Pivot collections on top of specialized collections (chemical structures in Sam's case, and images in Rebecca's). Overall Sam had an excellent end-to-end experience, creating dynamic Pivot collections from a set of search results. But Rebecca demonstrated something that has a wider applicability to image-based repository collections, and also embodied the 'spirit' of the challenge in coding this up in real time during the conference.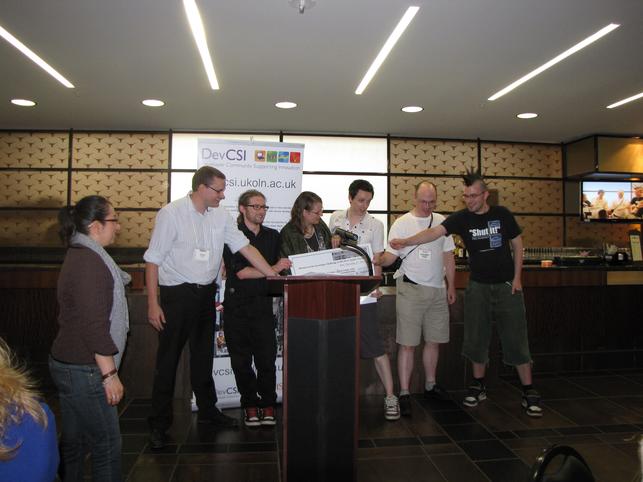 Illustration 3: The winners and runners up wresttle over the prize-cheque
Thanks to the distinguished panel of judges
AlexWade
Balviar Notay

(

Chair

)

Dorothea Salo
Elin Stangeland
Richard Jones
Sarah Fuchs
Sarah Shreeves
William Nixon
Wolfram Horstmann
© Copyright Peter Sefton, Mahendra Mahey (text) and 2011-06-14. Licensed under Creative Commons Attribution-Share Alike 2.5 Australia. <http://creativecommons.org/licenses/by-sa/2.5/au/>

This post was written in OpenOffice.org, using templates and tools provided by the Integrated Content Environment project.