Dev8ed Workshop: Booktype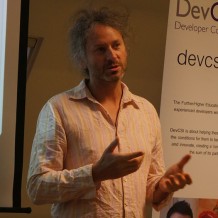 Adam Hyde provided an introduction to the online collaborative book production environment: Booktype.
He began by describing FLOSS Manuals, a voluntary community organisation that produces free software manuals in different languages and publishes these in HTML or ePub format, or in paperback via Lulu. He illustrated this by showing the FLOSS Manual: Introduction to the Command Line, which was written collaboratively over two days by a number of contributors.
FLOSS Manuals has been going for five years, but had an ongoing problem: there was no toolset to support collaborative authoring of structured content. They were using a wiki, which was not appropriate for their needs, as they were keen to produce linear content. As a result, they started building a platform that turned out to become a book publishing environment. Hyde explains that that did not set out to build such an environment, but were driven by their own needs.
They started by using Twiki, but when they started to want more out of the environment, such as attribution management, they found that it was not very useful for this. Every time they wanted to extend the paradigm, Twiki was working against them so they threw it away and built Booki, which became Booktype.
Hyde demonstrated how to use Booktype, including how to create and publish book. He stressed the importance of remaining in the book paradigm with sections containing chapters, rather then the wiki paradigm, in which sections contain content.
Hyde explained that the formatting within Booktype is controlled by CSS, as pixel perfect design is not possible in the browser. He described the wkhtmltopdf project, which takes HTML, CSS rules and JavaScript and turns it into a PDF using webkit. Booktype uses this in their rendering tool, OBJAVI, to create a PDF or ePub version of their collaboratively authored books. He noted that this also helps solve the problem of rendering mathematical equations, which is a problem for many educational projects looking to produce textbooks.
Hyde concluded by stressing that Booktype is a book production environment, not a content management system, but it should be able to work along side content management systems. They are building up the tools to allow you to create your content in those other environments and bring it into Booktype when you need to create a book.
"If you want to create a book, use a book creation environment, not a wiki or CMS."
Watch this presentation in full
Also available <a href="http://vimeo.com/43591376″>on Vimeo</a>.