Dev8ed Workshop: Creating and Sharing Learning Designs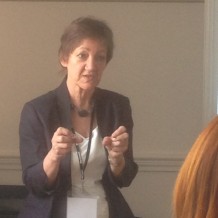 If we are to design tools to enable teachers to create tools for themselves, we need to understand the underlying pedagogies of teaching.
In this workshop, Diana Laurillard introduced the Pedagogic Pattern Collector, part of the Learning Design Support Environment project, which is intended to help teachers articulate their effective teaching ideas and adopt new pedagogical patterns.
Laurillard explained that teachers naturally capture their pedagogy in the form of lesson plans, so the Learning Design project includes a pedagogic patterns collector, which colour codes sections of lesson plans to separate the underlying pedagogy from the lesson content so it can be adopted by another teacher and repurposed as appropriate in their Learning Designer tool. There is an opportunity to edit the pedagogy, and the system provides a graphical representation showing the distribution of different types of activity undertaken by students within the lesson plan to provide some feedback about the lesson design for the teacher to review.
Laurillard demonstrated how to build a lesson plan, using the example of the previous Dev8ed presentation to build a representation of the activities within the lesson and make it available to someone else. She described this as lesson metadata, which allows the teacher to think about pedagogy separately from thinking about the content itself or setting things up in a VLE.
The workshop concluded with a wide ranging discussion about the tool, covering how the teaching community can improve its understanding of pedagogy, how the Learning Designer can be integrated with individual college lesson plan formats, and how a pedagogy can be refined as a lesson plan is refined in practice. Laurillard also outlined how the project could be taken forward as more pedagogic patterns are collected to assess whether there is the potential to create a pattern language and study these further to identify patterns within patterns.