Dev8ed Showcase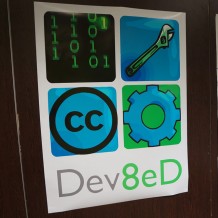 As Dev8ed draws to a close, the final session provided us with a showcase of highlights for the event.
Several participants shared their experience of the event and the positive outcomes that they benefitted from throughout the event, from useful tips and sessions to wider developments.
Some of the feedback included:
"I enjoyed my lightning talk – its a great way to get your head around your own topic" – Malte Ressin
"My highlights: localisation talk and different sorts of hosting talk" – Amber Thomas
"We had lots of discussions to follow up to help refine and use our Learning Designer tool. This was made it a really useful session for us." – Diana Laurillard
"There are lots of new things coming out in the VLE world, and it would be good to expand on this at future events with sessions about the different VLEs" – Stephen Vickers
"Seven new issues in my GitHub!" – Rob Engelbright
There were also prizes! Martin Hawksey and Alex Bilbie jointly won the popular vote for the best lightning talk, whilst Errol Thompson won a signed copy of Diana Laurillard's new book for his work on the Learning Designer challenge.
There was also an audience vote for the XCRI "Prettiest Page" competition, which asked developers to create a web page that shows information from the XCRI-CAP Aggregator API. This was won by Jamie Mahoney.
Further Coverage
We will be publishing videos from many of the workshop sessions and interviews with some of the presenters over the next few days. Please subscribe to our RSS feed or follow @devcsi on Twitter to get updates about further coverage.