Dev8ed Workshop: Clinic on Licensing Data, Content and Software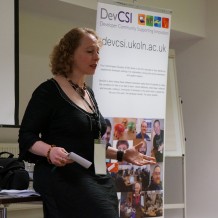 Rowan Wilson from OSS Watch, based at OUCS, and Naomi Korn, a copyright consultant, offered a free-form clinic to explore issues surrounding licensing if data, content and software, and to address specific concerns raised by the workshop participants.
The discussion began with the issue of orphan works, where it is not clear who owns the right to a particular resource. Korn noted that it is becoming increasingly important to take a risk managed approach, particularly in the area of preservation, which is not covered by current copyright laws. She highlighted her work on the OER IPR Support Project's Risk Management Calculator, which helps organisations understand the issues that may reduce, eliminate or increase the risks associated with the use or preservation of an artefact. She observed that if an orphaned work is a genuine orphan work, the rights holder may not know that they are the rights holder. She argued that if we have original works or digital surrogates where we don't know who the rights holders are, we have an obligation to put them up online, as this can help reunite the work with its rights holder.
Korn demonstrated the Risk Management Calculator using an example from a member of the group and discussed how the tool calculates the indicative risk level. She argued that if we are using resources innovatively, there will be a degree of risk and institutions need to be risk aware.
Wilson discussed the implications of the Hargreaves Review, and the difference between fair dealing in the UK and fair use in the US. He also outlined the responsibilities of people using code libraries, who have to consider whether using a particular library makes your software a derivative use. This is an open debate, as there are two schools of thought as to whether using a code library constitutes borrowing sufficiently to make your software a derivative work. Both Korn and Wilson noted that GPL on libraries can make mash ups more problematic, as the full GPL can be seen to be forcing the agenda.
Wilson highlighted the issue of academics asking to put presentations which they have used internally up on the web, but may contain images that infringe copyright. He observed that it depends on the attitude of the institution: he described his own institution's attitude as "intensely cowardly" but suggested that not all institutions will take this stance.
The workshop concluded with a broader discussion encompassing the effect of Creative Commons 4.0, the issue of managing backward compatibility and compatibility between licenses. Korn noted that the recommendation they have given to the JISC OER projects has been that if you are choosing a CC licence for inbound licensing, don't specify a version, so you are free to nimbly change this at a later stage.