Dev8ed Workshop: Hacking Stuff Together With Google Spreadsheets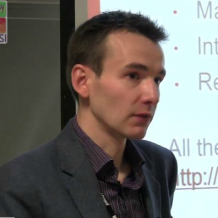 By popular request, Martin Hawksey from JISC Cetis provided a practical overview of how to hack things together with Google Spreadsheets to create a rapid educational development tool at last week's Dev8ed event.
Hawksey highlighted how Google Spreadsheets can be used as a rapid development tool to create lightweight applications to support teaching and learning. Examples included zero programming based solutions that rely on existing features like Google Forms, spreadsheet formula and conditional formatting. He also introduced more advanced methods using Google's cloud based programming service Apps Script, which is integrated into Google Spreadsheets and Sites, to create custom functions and interfaces.

Watch this Session
Or if you're up for the longer session, with more worked examples:
Other Resources
The slides to accompany this presentation are available here.
You can find more information about Martin and examples of his work with Google Spreadsheets at his website, including Martin's blog post about the session.