Dev8ed Workshop: Interfacing with Edukapp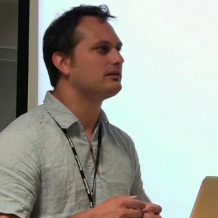 Edukapp is the UK-wide widget and app store, collecting learning technology produced for and in Higher Education. In this Dev8ed session, Lucas Anastasiou and Fridolin Wild explained how to interface your local environment with the widget store and run-time engine so that you can feature widgets and gadgets in your local virtual learning environment (or similar).
Edukapp was described by many as one of the coolest finds from Dev8ed.
Watch this session in full
This video is also available on Vimeo.
Other Resources
You can find out more about Edukapp at the project home page.
Presenter Fridolin Wild gave us this short interview describing his activities at Dev8ed and the value of the event for him…
This video is also available on Vimeo.