OR2012 Developer Challenge: The Pitches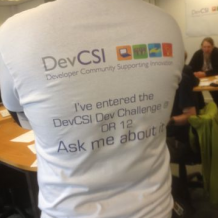 We've received a record number of ideas for this year's DevCSI Open Repositories Developer Challenge. Over the next seven and a half hours, the entrants will be working on their ideas to refine them, and in some cases write the code to start making their ideas a reality.
If you have a red, yellow or green dot on your badge, pop up to the Developer Lounge to chat to the developers to listen to their ideas and to give them some feedback and encouragement.




Judgement Time

At 5pm today everyone is invited to hear the challenge entrants pitch their ideas in front of our panel of judges.
There will beer. And nibbles.
In return, we want YOU to vote for your favourite pitch. Your votes will be taken into account by the judges when calculating the final scores for each pitch. The winners will be announced at the conference dinner later this evening.

So, come along to Lecture Theatre 4 to hear what's new and cool in the world of Open Repositories.