Local Developer Success Story: University of Bristol

Local developers deliver impact directly into students' pockets and enhance the relationship between the University and its city along the way.
In this DevCSI case study, Jane Plenderlith explores a local developer success story from the University of Bristol, recording how developers made a positive impact by providing students with useful information via their mobile devices….
The problem space
Most people use a mobile phone, increasingly not just as a means of communication, but as a source of information about all kinds of things. In 2009, developers in the Institute for Learning and Research Technology (ILRT) at the University of Bristol became aware of the potential value of developing a mobile phone application that supported a 'just in time' and 'on the move' experience. Through a JISC rapid innovation grant, the team created a prototype application providing time and location sensitive information about local public transport, particularly bus timetables and arrivals. Nothing of this kind was available at the time – students and staff looking for information about bus times and local trains relied on printed timetables, notices at the bus stop, or web-based information which would require browser access.
What the developer did
With additional funding through the JISC Business and Community Engagement (BCE) programme, the mobile application has been further developed in collaboration with Bristol City Council, in an initiative supporting the Council's sustainable transport agenda.
The ILRT team has taken an agile development approach, reporting to a project Steering Group for regular feedback on proposals, progress and prototypes. An online survey of student views confirmed the developers' hunch that there was a genuine demand for the application, and also provided suggestions for further information that students would find useful.
The development process is logged on a project blog with secure links to the underlying code, so the application itself is not dependent on the work or expertise of any individual.
This initiative builds on, and contributes to, a number of diverse mobile phone application developments at the ILRT, including the Nature Locator for gathering and analysing crowd sourced biodiversity information, and an application for accessing up-to-date information about JISC developments, funding calls and news releases.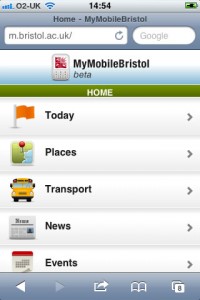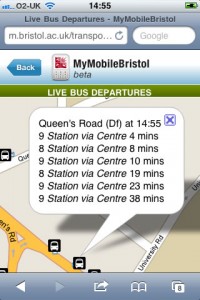 Screenshots from the MyMobileBristol App
Tangible business benefits
The development of this application in collaboration with the City Council is helping to enhance the relationship between the University and its city. It is also enabling the Council to realise its vision for sustainable transport and reducing its carbon footprint. Plans to develop the application to include additional time and location sensitive information about facilities, events and entertainment will further enhance the relationship between the student population, the city and the immediate environment.
The initiative is also generating a rich body of evidence that is informing the development of a mobile technology strategy for the University as a whole.
Why use a local developer?
Being part of a larger developer team located within the University has benefited the development process for this initiative in a number of ways. An agile approach using the project Steering Group both as a formal reference point and an informal sounding board enabled developers to respond rapidly to emerging ideas and possibilities. Says developer Mike Jones: "When software design projects are planned from the outset with specific targets, there is a heavy project management overhead and it's harder to respond quickly to stakeholder feedback."
Internal developers are also more likely to have ready access to different data sources and owners across the institution. Being able to talk to academics on their own terms also helps to build a trust relationship and ensure that the development has currency and relevance for practice.
Nikki Rogers, Enterprise Architect at the University, explains why having an in-house developer is important:
"The particular advantage of having an in-house developer, from the point of view of implementing an Enterprise Architecture within the institution, is that the developer is immersed in the cultural and physical setting of the organisation and hence well placed to interact as necessary with teams operating a variety of interrelated services. Local developers have an understanding of data flows and systems within the University and can gain the trust of key personnel. This enables them to carry out the technical work required to integrate data sources for the project's technical solution. Serendipitously, the in-house development process has been useful for the organisation in helping to build, iteratively, a picture of how our applications and information architectures are best designed in order to cater for this new requirement to deliver Mobile Web data tailored to our students."
Tim Phillips, Director of IT Services at the University, emphasises the value of the innovative work that local developers are able to do: "Our local developers are really the R&D wing of our IT services. They are doing innovative things in interesting areas that helps to add value to the services we provide for students and staff. This helps to demonstrate the quality of the student experience we are able to offer here, and also to attract high-quality research and teaching staff to the institution."