OR2012 Developer Challenge: Fedora Object Locking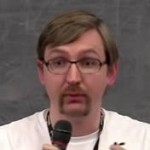 Asger Askov Blekinge from the State and University Library, Denmark presented his idea for Fedora object locking at the DevCSI Open Repositories 2012 Developer Challenge.





In his original entry, Asger gave the following description of his idea:


Fedora have long wished to be able to run multiple webapps, on the same object store. The first problem in doing this is to synchronize writes to the objects. This is an implementation that allows multiple fedora instances to lock and thus synchronize writes to the objects. It uses Hazelcast to synchronise state between the Fedora instances.
Pitch
This video is also available on Vimeo.
Slides
Slides to follow
Further Development

Are you interested in collaborating with Asger or discussing how this idea could be taken further?
Please leave a comment on this page.