OR2012 Developer Challenge: Inter Repository Text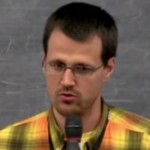 Jakub Jurkiewicz from the University of Warsaw presented an idea for inter repository text on behalf of his team, Tomasz Rosiek, Łukasz Wasilewski and Wojciech Sylwestrzak, at the DevCSI Open Repositories 2012 Developer Challenge.





In their original entry, Jakub gave the following description of their idea:


To define common architecture of digital content storage applications and provide an open software platform (environment) which facilitates creation of such applications. It consists of the service integration framework and set of versatile building blocks providing common functionalities that are required in repository applications, among others: storage, relational and full-text indexing, storage of the data created by users, acquiring data from external systems and enrichment of the data
Its loosely-coupled service-oriented architecture enables deployment of highly-scalable, distributed systems including digital libraries, multimedia providing services, content management systems, document management systems.
Pitch
This video is also available on Vimeo.
Slides
Slides to follow
Further Development

Are you interested in collaborating with Jakub and the team, or discussing how this idea could be taken further?
Please leave a comment on this page.