OR2012 Developer Challenge: Splinter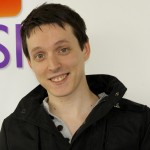 Matt R Taylor from the University of Southampton presented his idea for splinter repositories at the DevCSI Open Repositories 2012 Developer Challenge.





In his original entry, Matt gave the following description of his idea:


Eliminate the overhead associated with managing the high volume of deposits surrounding a conference or event. Instead of creating accounts for every single new user and educating them in how to use the software – any user wishing to contribute can simply visit the event site and click to create a splinter repository for their own personal use. This will provide them with a lightweight version of the repository that they can host themselves with zero configuration. This allows them to very quickly upload and annotate their resources at their own convenience.
At the end of the event, the main repository will automatically absorb all the splinter repositories back into itself to collect all the resources into one location.
Developer Interview
Matt gave us a quick interview about his pitch and how he believes the idea could change the world….
This video is also available on Vimeo.
Pitch
This video is also available on Vimeo.
Slides
Slides to follow
Further Development

Are you interested in collaborating with Matt or discussing how this idea could be taken further?
Please leave a comment on this page.