OR2012 Developer Challenge:
Visualising Repositories in the Real World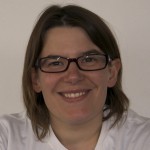 Julie Allinson from the University of York presented an idea developed along with Ben O'Steen from Cottage Labs for visualising repositories using a .Net gadgeteer kit at the DevCSI Open Repositories 2012 Developer Challenge.





In their original entry, Julie gave the following description of the idea:


We'd like to use a .Net gadgeteer to show the physical activity of the repository in various ways, including:
An always-on LCD readout of the current health of the repository
Show the hits per hour on a real physical gauge, like this one
Ring a old-fashioned bell when the 'deposits-per-day' target has been reached!
Blow bubbles for each deposit! (like bubblino.com)
Developer Interview
Julie gave us a quick interview about this pitch and how she believes the idea could change the world….
This video is also available on Vimeo.
Pitch
This video is also available on Vimeo.
Slides
Julie presented her pitch using Google Docs. You can see her slides online here.
Further Development

Are you interested in collaborating with Julie and Ben, or discussing how this idea could be taken further?
Please leave a comment on this page.