OR2012 Developer Challenge:
Mobile Audio Transcription and Submission (MATS)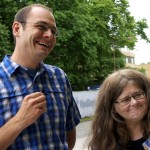 Keith Gilbertson and Linda Newman presented their idea for a mobile service to transcribe audio repository submissions at the DevCSI Open Repositories 2012 Developer Challenge.





In their original entry, Keith and Linda gave the following description of the idea:


I was originally imagining an electronic device to be used by historians, archivists, and others who work with audio transcripts. The device records an audio file, and then deposits it into a repository, where it is automatically transcribed.
After speaking with other developers, the idea above for automated transcription has been revised. The most efficient way to develop it would be to extend last years SWORD mobile phone app. Users can choose between Microsoft Research MAVIS and Amazon Mechanical Turk Transcription to automatically transcribe the audio recording.
Pitch
This video is also available on Vimeo.
Slides
These slides are also available on Slideshare.
Judges Comments
This is a well-scoped competition entry which is small and simple enough to explain clearly and implement quickly. The application is well motivated and the team offered specific use-cases. It builds a competition entry from 2011's challenge, and the judges were pleased to see the team evolve the idea over the course of the conference.
Further Development

Are you interested in collaborating with Keith and Linda, or discussing how this idea could be taken further?
Please leave a comment on this page.