OR2012 Developer Challenge: Repository Ram-Raid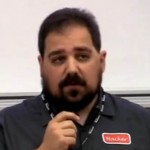 Ben O'Steen from Cottage Labs presented his idea for a repository ram-raid at the DevCSI Open Repositories 2012 Developer Challenge.






In his original entry, Ben gave the following description of his idea:


I would replicate the contents of a repository to a remote VM to do processor and I/O intensive work – text-mining, image/audio/video analysis, alternate indexing – and push back the new, augmented content and reports back to the host repository (via SWORD2) to demonstrate what could be done if they had a developer on staff.
Pitch
This video is also available on Vimeo.
Slides
Slides to follow
Further Development

Are you interested in collaborating with Ben or discussing how this idea could be taken further?
Please leave a comment on this page.