OR2012 Developer Challenge: Shield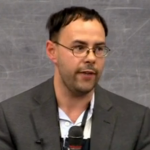 Graham Triggs from Symplectic Limited presented his idea for an extension to SWORD at the DevCSI Open Repositories 2012 Developer Challenge.





In his original entry, Graham gave the following description of his idea:


My entry is an idea for how to extend the scenarios in which SWORD (v2) can be used.
Pitch
This video is also available on Vimeo.
Slides
Slides to follow
Further Development

Are you interested in collaborating with Graham or discussing how this idea could be taken further?
Please leave a comment on this page.