OR2012 Developer Challenge: Boastr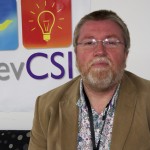 Les Carr from the University of Southampton presented his idea for a smartphone app to record "impact fodder" at the DevCSI Open Repositories 2012 Developer Challenge.





In his original entry, Les gave the following description of his idea:


The big challenge for researchers at the moment is all about demonstrating impact, and showing off research outcomes. The problem is, there are no tools to support researchers collecting and storing evidence of impact. The activities that happen because of the research (invitations to speak, events, input to important committees, changes in policy, input to standards, new courses, business outcomes) are unreflected upon. Researchers say things like "we must remember this marvellous thing for the final report" but they actually spend all their effort trying to produce the event / activity and not record it for later dissemination or publicity.
I propose a smartphone app, something like Path, that allows a researcher to connect together a diary event, a place, a set of known people and a project with some descriptions (and categories from ROS). Basing this on a ubiquitous smartphone app allows the user to conveniently annotate any of their activities as "Impact Fodder" as they happen. Using a native app interface allows us to escape the standard form-filling metadata paradigm of the 1990s, and opens up the possibility of a beautiful and enjoyable user experience. Collecting impact and outcome evidence should be a constant preoccupation for a researcher – not something that happens at the end of a project.
The collected information can be easily dumped via SWORD into a repository and from thence submitted to ROS.
Developer Interview
Les gave us a quick interview about his pitch and how he believes the idea could change the world….
This video is also available on Vimeo.
Pitch
This video is also available on Vimeo.
Slides
Slides to follow
Further Development

Are you interested in collaborating with Les or discussing how this idea could be taken further?
Please leave a comment on this page.