OR2012 Developer Challenge:
Getting Academics Closer to Repositories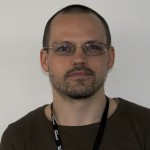 Mark MacGillivray and Richard Jones from Cottage Labs presented their idea to get academics closer to their repositories at the DevCSI Open Repositories 2012 Developer Challenge.





In their original entry, Mark and Richard gave the following description of the idea:


As a researcher, I know or care very little about the local repository – whether through my own lack of care or that of my institution is not relevant at the moment – let's just accept for now that what I care about is my research, the output of my research group, and how we can better present ourselves to our peers, our funders, the public, blah blah. How can I do that? Well, I would like to be able to show – on MY web page or on MY research group web page – lots of cool information about me and my group; NOT about the local repository, but about OUR work. If it were possible to easily embed information about my publications on my web page just by virtue of having inserted them into the local repo, then I would have a reason to bother doing so. One issue with this is proof of value – of course repos want to show value by how many hits they get, but really, I want to show value by how many hits I GET (if I know anything about web analytics and alt-metrics at all, that is…). BUT, in both cases, having more links to repository content in more places would benefit both me and the repo – my page would look better and have more useful information, including links to accessible copies of my work, and the repo could measure higher click-through.
Our proposed solution to this is a javascript widget that can be easily embedded by an academic on their own web pages that automatically tracks their submissions to their repo, and provides useful stats whilst also linking out to other cool sources of information. I can already demonstrate the basics of this, and would love to develop it further.
Developer Interview
Mark gave us a quick interview about their pitch and how he believes the idea could change the world….
This video is also available on Vimeo.
Pitch
This video is also available on Vimeo.
Slides
Slides to follow
Judges Comments

Honourable Mention

This entry was one of the audience favourites and it is an impressive demonstration of the power of SWORD, which is a way of adding content to repositories from anywhere. Two main use-cases were demonstrated, adding SWORD deposit to a user's home page, and a browser plug-in for adding a SwordIt button to third party services such as publisher repositories. These incremental steps in the ongoing SWORD success story are clearly worth implementing and we'd like to see them taken further.
Further Development

Are you interested in collaborating with Mark and Richard, or discussing how this idea could be taken further?
Please leave a comment on this page.