OR2012 Developer Challenge:
Redundancy at the File and Network Level to Protect Data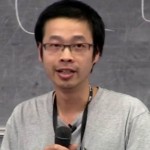 Jimmy Tang from Trinity Centre for High Performance Computing presented his idea for redundancy at the file and network level to protect data at the DevCSI Open Repositories 2012 Developer Challenge.





In his original entry, Jimmy gave the following description of his idea:


My idea would be to add FEC codes to the persistance layer in digital preservation, archival, storage systems. (To add a redundant array of inexpensive network devices to systems such as iRODS, Fedora-Commons, Hydra?). The idea is to have raid at the network level for the backend of a repository system.
The background to this is that securely storing data by replication at the network level, while it is effective, it can be expensive as the system scales. Unless the system can buy enough disk in bulk to get the bulk discount it will can be expensive.
Pitch
This video is also available on Vimeo.
Slides
These slides are also available on SLideshare.
Further Development

Are you interested in collaborating with Jimmy or discussing how this idea could be taken further?
Please leave a comment on this page.