Local Developer Success Story: University of Edinburgh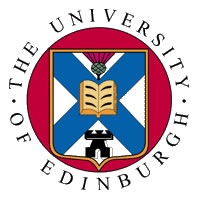 When a local developer meets a paper-based data management system, they can not only improve efficiency, but also open other possibilities for enhancing business processes.
In this DevCSI case study, Jane Plenderlith explores the local developer success story surrounding a collaboration between LEAPS and developers at the University of Edinburgh to build an online accessible database system…
The problem space
LEAPS (Lothian Equal Access Programme for Schools) supports young people across East, Central and Southern Scotland in accessing higher education. In operation since 1995, LEAPS is a complex organisation, working with secondary schools and further education colleges across a wide area, in contact with thousands of young people every year. The organisation is funded by several different universities but based in offices within the student recruitment and admissions service at the University of Edinburgh.
LEAPS initially operated an entirely paper-based data management system, with a ten-strong team of advisers collecting, analysing and archiving files, forms and documents. The impetus for change came with the realisation that the paper-based system was hampering the work of the organisation. The cupboard was quite literally full, there was no further space for office expansion, and the information being generated could no longer be interrogated or analysed effectively.
While LEAPS had no formal relationship with technical support and development at the University of Edinburgh, through informal contact with staff in the shared workspace with student admissions, various possibilities for automating LEAPS data management emerged. As a result of these informal discussions, LEAPS commissioned a developer at the University to create an online accessible database system.
What the developer did
The development process was agile, characterised by frequent discussion, iterative testing and user feedback. Developer and client reached a shared understanding of the problem space and how it could be addressed.
The new system enables automated data entry, archiving and analysis. A key requirement was a simple online form that was easy for users to access and understand. Users can submit information directly and at their own convenience, and administrators can manipulate the data as required.
The success of the development in meeting user requirements is due in no small measure to the co-location of developer and client, and to the developer's understanding of the client's context, organisational ethos and ways of working. This facilitated the creation of a system which not only met the needs specified by the client at the outset, but also opened other possibilities for enhancing business processes and services.
This case illustrates the sometimes complex inter-relationship and blurred boundaries between in-house development and outsourcing. LEAPS had to commission an external developer, but was able to access local expertise through co-location with university services.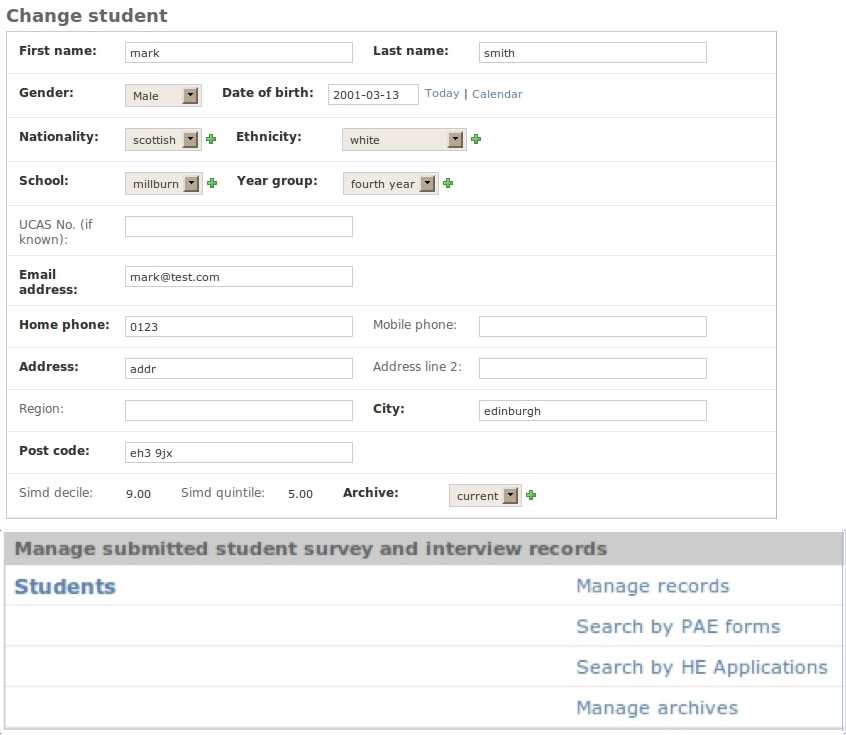 Screenshots from the LEAPS database user interface
Tangible business benefits
Without the development of the online data management system, LEAPS business processes would have become unmanageable – but now the cupboard is now relatively clutter-free. More importantly, business processes are streamlined, with more effective data access, archiving and analysis.
There is evidence that the new system is saving staff time and is improving the ways they work. LEAPS are able to reach more young people across a wider area, and provide more streamlined, targeted support. Data analysis and reporting is quicker, more comprehensive, more consistent and more accurate than before.
Why use a local developer?
The developer's connection to the organisation, its staff and customers, was crucial to the success of this initiative. Regular discussion, testing and feedback enabled a solution tailored to emerging user needs.
Importantly, working to recognised professional standards for documenting the development process helps to avoid dependency on any one individual, and contributes to the further development and wider transferability of the new system.
Mark Macgillivray from the University of Edinburgh highlighted three factors which made the involvement of a local developer key to the success of this project:
Working directly with end users is really important
Technology is great, but you can't get past talking to people
The developer should not be a single point of failure for the system