Event report: BarCampLondon7 – unpredictable brilliance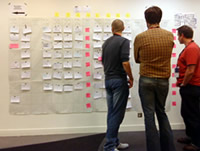 BarCamp7 was an unconference – a conference with no speakers. Or, more accurately, a conference of all speakers.
The BarCamp format is simple: there is no agenda, no workshop schedule, no keynote speeches. In their place are empty post-it notes, a blank wall and up to 200 keen developers, designers and anyone else on the digital spectrum.
Everyone who attends is encouraged to deliver a 20-minute session on a subject they are passionate about – whether it's CSS or Python, spotting scams or taking photographs – and the result is an unpredictable, glorious mess of creative energy.
Common sense dictates that the purpose of attending any conference is to learn from other people in your field. You see what they are working on, learn from their experiences and meet people who might be useful to your work. So at first glance it might seem a frivolous waste of a weekend to go to a conference with no agenda and no delegate list. Interesting, perhaps, but frivolous all the same.
However, BarCamps are carefully engineered chaos. The event's success hinges on the promise that 200 almost-randomly selected geeks stuck together in a building for 48 hours will innovate exponentially. Because, by and large, the people who attend BarCamps love what they do. And because they love it they want to do it better, smarter, more productively. After all, that's why they choose to spend their weekend at a BarCamp, exploring the intricacies of log parsing or discussing new mobile app mashups, instead of sitting on the sofa at home watching X Factor.
The Sessions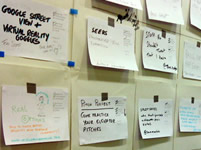 Google Street View + Virtual Reality Goggles; Open source ReST on .NET; Back from the dead – Cold Fusion & Open Source; Non-relational databases BoF; HTML emails 101 – How to design, develop and how to use them for good *and* evil; An intro to Open Rasta; New fonts for the web (@font-face); Rails for PHP exiles…
With nearly a hundred talks it would be impossible to give a synopsis of each one. Instead, here are summaries of just three talks. Not necessarily the best, and certainly not the most technical, but included to give a tiny glimpse of what can happen in a 20 minute BarCamp session.
'The National Museum of Computing: what it is, where it is, why it needs your help'
Alison Wheeler from The National Museum of Computing started a lively discussion about archiving old computers.
The group discussed what a computer museum ought to be – is it merely a nostalgia trip, a chance to gaze at tapes and memory drums and marvel at how far technology has come in such a short space of time, or is it a resource for the historians of the future who are looking at the birth of computing and the internet?
Should we archive machines behind glass, or make them into playthings? Should we tell the stories of how they were used, or just document their timelines? Do we need the museum to be for people now, or build it as an constantly growing archive? Do worms and viruses have a valid place in the history of computers, or would that glorify crimes and cause negative consequences for the developers now?
By the time the 20 minute was up there were more questions than answers, but also a definitive sense that the stories of the machines are as important as the actual hardware.
'iPhone download stats'
Two developers spoke about their experiences of developing a couple of successful iPhone apps – one providing updates from TheTrainLine.com, and another giving geographical alternatives for expensive 0870 numbers.
Success for an iPhone app means lots of downloads – and lots of downloads come from publicity. Support from Apple is important, and getting it to the front of the Apple app store can be a massive boost, but if you can find the hook for the press then don't be afraid to contact big players such as the Guardian, Telegraph and Techcrunch.
Don't be lured in by the promises of big bucks – there are so many apps now that you're unlikely to recover your development costs, particularly if you're creating free apps. The best use of an iPhone app is as a marketing tool. Another tip: the 3GS iPhone is too fast to use for testing! Use older models or the iTouch.
'Stuff you shouldn't tweet that I have'
Dom Hodge, aka 'The Hodge' gave a very entertaining account of some of the many ways he has been threatened with lawyers for writing on blogs and Twitter.
The basic pattern seems to be: get bad treatment from a company. Blog about it. Get threatening email/phone call from company. Blog about it. Get another, angrier email/phone call from company. Talk at a BarCamp about it. Despite the threats, never actually get sued.
The central message of the session: don't be afraid to write what you think. As long as you tell the truth, you'll be ok. Probably.
Fun is not the antithesis of work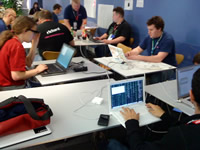 One of the fundamental premises behind BarCamp is that everyone is an expert on something. Of course, it doesn't necessarily follow that everyone is dying to talk about a neat trick they learnt in Ruby, or a clever new API they built for PayPal.
Just as important as the technical sessions are the more light-hearted sessions, such as 'Split fares – aka hack yourself a cheaper train ticket' or even 'Learn how to play Munchkin' – particularly useful for the late-night gaming that take place overnight (for those with a sleeping bag and a sense of adventure, the 'camp' of BarCamp is literal.) And if playing boardgames until 4am doesn't appeal, there's always LAN parties or BarCamp favourite Werewolf – a strategic group game involving lynchmobs and murderers.
Playing Urban Terror with 15 other people or listening to a man talk about how he created a Lego sculpture of his family may feel like a break from a day of thinking about code. But it isn't really a break – the brain will still be making connections and looking for patterns, constantly learning and developing new ideas.
It might just look like everyone's having fun, and invariably they are, but crucially they're also making friends and strengthening relationships. It all contributes to the playful, positive atmosphere of BarCamp – and the central message that happy, relaxed people are productive people.
Unexpected brilliance
BarCamp is a great leveller. There is no 'us and them', no speakers and listeners. Everyone participates, and everyone is heard. And because everyone is encouraged to give a talk, everyone knows how nerve-wracking it can be to stand up and position yourself as an expert – even if you truly are an expert, and even if you're just speaking to ten people. This empathy and sense of equality creates an unusually friendly, receptive atmosphere to sessions; the kind of atmosphere that event organisers can usually only dream of.
Even the largest universities can be isolating places, and working in a contained development team on a specific project can make it difficult to see new possibilities and opportunities. The beauty of BarCamp is in the unexpected connections, the ideas that flourish when you cross-pollinate with people outside of your project, programming language or discipline.
This philosophy of unexpected connections was perfectly illustrated in a session telling the story of Ernie, the bored church organist. In the 1980s Ernie was a physicist who realised that with the right hardware and programming a BBC Micro could be set up to play the church organ. 20 years later Ernie had retired, and with time on his hands he finally tried out his experiment. The result: a hacked pipe organ that will automatically play a week's worth of music. Unexpected, simple, brilliant.